Free Compliments.
by Benjamin Jenks on March 6th, 2010
No Comments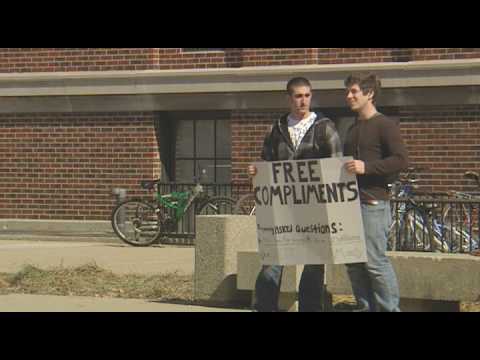 "Everybody likes a compliment." -Abraham Lincoln
Meet Brett & Cameron.
These two college students started handing out compliments on the campus of their school, Purdue University.  Brett and Cameron would stand at a busy section of their campus and just call out compliments to those passing.  Watch the video above.
The Brightside Tour.
Well, they pretty much hit it big time on YouTube after awhile and were sponsored by Kodak to travel the country and do the same thing.  They called it The Brightside Tour.  
Brett and Cameron when "on a mission to give as many compliments as possible to help people look on the Brightside."
Create Our World.
Ben
"I can live for two months on a good compliment." – Mark Twain
Tags: compliment guys, the brightside tour
Categories: Websites.