Bests and Worsts of the Journey… So Far.
"To find what you seek in the road of Life, the best proverb of all is that which says, 'Leave No Stone Unturned.'" – Edward Bulwer Lytton
Happy New Year & Happy New Decade!!!
The Bests and Worsts of my Trip (So Far).
Since I have been hitchhiking, camping, walking, and couchsurfing my way around the USA looking for friends, wisdom, and stories of the Goodness of People. This is a short list of the highs and the lows.
Most Miles in 1 Ride: 673 Miles with Carlos from New Jersey to Michigan.
Most Unselfish Person: Megan. She drove 600 miles out of her way to pick me up in Massachusetts and drop me off in Scranton, Pennsylvania.
Most Listened to Song: Kids by MGMT.
Most Challenging Part of the Journey: My Quiet Sojourn in California. No talking, reading, writing, using any devices, or really doing much of anything for a week in the hills of California. Just Me.
Most Rides in a Day: 10 Rides from Lyndonville, Vermont to Portland, Maine. 143 miles total.
The City that Instantly Felt Like Home: New Orleans.
Most Famous Person Sighting: Watching Jason Statham shoot some of his new movie near Covington, Louisiana.
Most Savvy & Useful Gift: An iPhone. Jason gave me a ride from Richmond to Charlottesville, Virginia and also gave me his iPhone.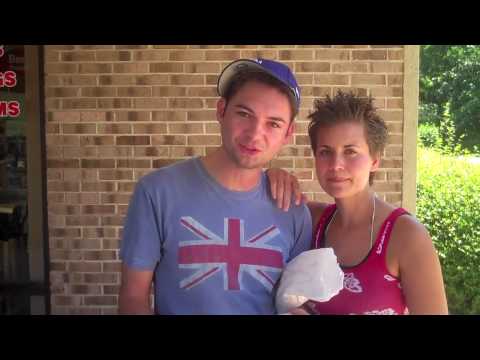 Most Interesting Conversation: Staying with polyamorists in Richmond, Virginia.
Cheapest City to Live in: Austin, Texas.
Easiest Hitchhiking State: Michigan.
Hardest Hitchhiking State: Massachusetts. Runner Up: New York.
Most Dissappointing City: Burlington, VT. I stayed here about a week & didn't have nearly as good of time as I thought I would in this hip, friendly town.
Least Tasty Gift: Dried Edamame. Yuck!!!
Most Unusual Sleeping Spot: On a mattress on a Pool Table in Oneonta, New York, crashing with my new friends from the band, The Gambler Nun & Radio.
Runner-up to Most Unusual Sleeping Spot: Attic of a tack house (horse riding gear storage house) on an organic dahlia farm in Southern California.
Second Runner-up to Most Unusual Sleeping Spot: On a boat, on a swamp in Louisiana, on a Yoga Sanctuary, where they were shooting a big budget Hollywood movie.
Best Breakfast: Porkchops on the grill with eggs and hash browns. Lots of Hot Sauce. I ate these with Astronomer's and Megafauna in Charlottesville, Virginia. I crashed with them after their show.
Longest Stretch with No Shower: Two and a Half Weeks.
Most Profitable Section of the Road: Between Austin, Texas and Yuma, Arizona, I was gifted around 160$ by people. Not trying at all.
Funniest Facial Hair Phase:
Biggest Mistake: Only pressing the front brake while biking in Austin, Texas and totally wiping out. I broke my camera and severely donked my head. The ambulance said I should walk it off.
Nicest Police Officer: Officer Dave in Massachusetts gave me a ride in his car to a nearby gas station. No handcuffs or stripsearch, either.
Longest Wait for a Ride: Lansing, Michigan. I tried for a few hours, then I would walk to the next exit, then wait, then walk, then wait. I didn't get out of Lansing that day.
Lake that you can't pass without Swimming: Lake George, New York.
Most Inspiring Person: Lara Cappelletti from The Ultimate Lifestyle Project.
Most Beautiful Camping Spot: On a cliff overlooking Lake Champlain outside of Burlington, Vermont.
Worst Camping Spot: Near Charlottesville, VA I camped in a forest full of poison ivy and broken beer bottles. This was before I had a head lamp or was any good at finding spots to camp.
Tastiest Food I had never heard of: Muffuletta. A sandwich that is popular in New Orleans. Capicola, salami, mortadella and other meats on bread covered in an olive salad.
Most American Monument: The Worldest Tallest Uncle Sam Statue near Lake George, NY.
Scariest Moment: Big Jack starts to pull away from the gas station in his 18 wheeler with all my stuff in his truck. I jump on the side and open the door… then he stopped. He was only moving his truck a little. He laughed at me.
Meanest Moment: Someone threw a milkshake from their car towards me as I was hitchhiking in New York. It landed about 10 feet away.
Most Surprising Place that I Never Thought I would go to, but Loved: The Bog, a tavern in Scranton, Pennsylvania with great people and great music.
Person I have seen the most all over the USA: Hope. I couchsurfed with her and her friend, Sahar in East Lansing. Then, she was attending a conference in New Orleans, when I happened to be there. Also, she was visiting family and friends in San Diego on New Year's Eve.
MORE TO COME!!!
Create Our World.
Ben
"If you would create something, you must be something." – Johann Wolfgang von Goethe