Wednesday, November 25th, 2009
 "A very small amount of hope is sufficient to cause the birth of love." – Henri B. Stendhal
Have you ever been to New Orleans?
From my experience, it seems people either love it or hate it.  I am in the Love category.  Today is about my hitch to New Orleans from Covington, which is about 60 miles.  It was Halloween then.
Meet Olya.
I leave my friends Julianne and Marianne to hitch to New Orleans on my own.  I am meeting up with Aymee whom I met through Couchsurfing, a website, whom was doing a road trip around the United States.  She has offered me a place with her friends.
I wait in Covington in the chain store, urban sprawl zone.  I have a New Orleans sign and stand in front of a gas station.  Lots of cars pass and think it is funny that I am hitchhiking.  I wait about an hour till Olya pulls up.
Olya pulls into the gas station.  She is going to New Orleans.  We get gas and take off.  Olya has been having a rough day.  I ask if she wants me to drive and she concedes.  Yes, it has been awhile!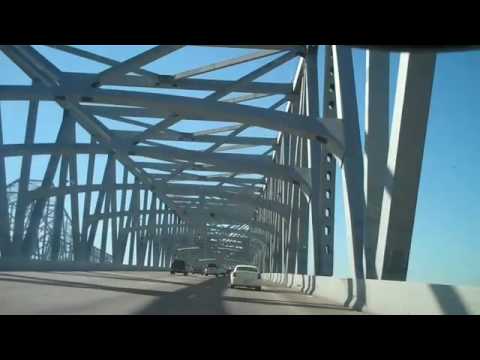 A short clip going over the bridge to New Orleans (the second time) with Olya singing Russian folk songs in the background.
Over the bridge.
We have to drive over the bridge to get to New Orleans.  Olya shares a bit of her troubles.  She is from Russia.  Olya is recently divorced and not feeling like she has good friends.  She is also recently out of work and homeless.  Her stuff is piled in the back seats.  We drive and listen to music.  A friend of hers is a musician so we listen to the CD.  It is good.
Flamenco Dancer.
Olya is a flamenco dancer.  She loves to dance.  As we drive she shows me a bit of it, although I'm sure not the full deal, since she is in a car seat.  She also sings me some Russian hymns.  They are about loneliness.
Whoops!
She is meeting her friend, Joseph, in New Orleans so try to find it but miss.  I end up passing New Orleans and we have to turn around and go over another bridge to get back.  Eventually once in, we pull over at a Burger King and he comes to meet us.  He gets a ride as he can't drive so then he piles in with us.  I drive us to his home with Joseph, Olya, and me all in the front seat of her car.
Joseph's family.
Joseph invites me to hang with him and his family as they are in town from Georgia.  They are all watching the Florida versus Georgia college football game.  They get into it.  After every point scored they do pushups for how many points are scored in the game.  Most of Joseph's family are Georgia fans, except for one.  He is a die hard Florida fan and is into every play.  "YES!!! GO MAN!!!"  or "WHAT THE HECK WAS THAT!!!???" depending on the outcome of the play.
They are a hoot!!!
Meeting Aymee.
But as the game ends, I decide I must meet up with Aymee and get ready to explore New Orleans.  Olya writes me a poem before I go and writes it in my journal.
"There is freedom in loneliness
and sweetness in thinking alone.
I can put a raindrop or a snowflake in every poem.
I'm dying every night to resurrect the morning after.
Each new day is a dew drop from paradise."
                                               – Olya
I am touched by the poem and happy to have met these people.  A great start to New Orleans.
Joseph and his brother drive me across town to 4320 Coliseum it is in Uptown New Orleans.  I think I will just be spending the night here and off west tommorrow, but fate has other ideas.  This is a blessed place.
Create Our World.
Ben
"All mankind love a lover." – Ralph Waldo Emerson